Services
Residence Bleu services are designed to meet the requirements of those who come to visit the city but also for business travellers.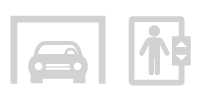 garage + lift
Our guests can use the property's secure underground parking facilities free of charge.
It provides access to the apartments by a practical lift.
In the event of rain or the transport of bulky goods, therefore, the covered garage with the lift makes life easier.

garden
A large internal garden is outfitted to enjoy meals alfresco. With the kitchens that come with every apartment it is possible to cook and set one of the tables in the garden. Roses, climbing plants and a number of small trees adorn our small relaxation corner and make it seem even greener. It is here that you could happen on one of the neighbourhood's friendly cats.

bar
The bar area, within the building and for exclusive use of our guests, is well-stocked with all refreshments and bar amenities, which can be consumed within the bar or seated at one of the tables in the garden.

library
For moments of complete relaxation, a library corner is available, furnished with two comfortable armchairs and with several books in Italian and English, as well as with Italian daily newspapers.

laundry room
It is possible to access the laundry room with its modern washing machine and traditional sink at any time.
Detergents, clothes drying racks, iron and ironing board are available to guests.
This room is located on the ground floor and connected to the residence by the internal lift.

bicycle rental & extras
It is possible to rent two pedal-assist bicycles (the residence is part of the bicycle network for operators in Carso, Breg and Muggia) or, alternatively, take advantage of Bike Ways services and its extensive catalogue. The Residence Bleu is the point of reference for pickup and return.
In addition, it is possible to book bag lunches, a home delivery service for groceries and the purchase in situ of local oil and wine.
Wi-Fi is available throughout the property.